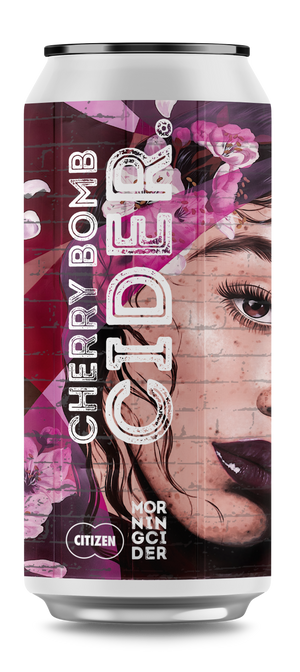 Morningcider
Morningcider Cherry Bomb Cider
Sale price Price $39.99 Regular price Unit price / per
Tax included.
Shipping
calculated at checkout.
Cherry Bomb
Our latest beverage bombshell has dropped and she's a stunner of a cider! A magical colab between Citizen and Morningcider, this sweet beauty queen boasts of fresh rescued Central Otago cherry, apple, brown sugar and cinnamon. Citizen rescue surplus food so we can all fight food waste over a bevvy and Morningcider is the gang behind NZ's first neighbourhood apple orchard - what a duo of goodness! Cherry Bomb is sure to steal hearts and tastebuds all over Morningside, a land full of locals that live on the bright cider life.
4.5% ABV.  

Available in 440ML 

SPOTLIGHT ON OUR COLAB
Citizen's Beer is so cool. We love Colabs!   
Did you know reducing food waste is one of the best ways we can fight climate change? Citizen, make it their mission to stop needless food waste. They rescue foods that would otherwise go to waste and upcycle them into delicious food and drink, like our very own Cherry bomb each can of cider rescues 20 cherries!  - Good job you on saving the planet!
Fighting food waste together, over a drink. Cheers! @heycitizens
#herestoabetterway #rescueandrework #lesswastemoretaste #rescuedfood #upcycledfood #stopfoodwaste #centralotagocherries#nzcherries
A couple of words from our Cherry Artist 
The kid sister to Kingsland, Morningside's always been a modest type of place. We have both lived local on Taylors Rd, one of us much more recently than the other.  For a suburb of its size, it punches above its weight when it comes to street art and it's been a treat to add to the mix with our own mural. A rich palette of colour with scattered blossoms surrounds our hero in an interplay of letter forms sourced from the name of this drop.
We have been working on blending our styles and ideas into something that we can't achieve as individuals. We're looking for that little bit of magic, a spark of synergy, the unexpected amongst the unintended and the elusive outcomes of chance. 
Margarita & Ross